360° Camera
The 360° camera is a digital camera or a set of cameras designed for recording 360° videos/photos of real-world panorama to make viewers feel real like they were in that event. This special videos let viewers can pan video to watch the scenes in different angles like they sat and looked around at that place. 360-degree camera offers full field of view that make it can captures all details and has no blind spot.


What It's Good For
Panoramic Shots:
360° camera has an ultra wide-angle lens or multiple lenses working together to be able to capture panoramic photos with a single shot. The photo taken from this camera is not just a panorama, it' 360 photo which viewers can scroll to select the angle they like. It also can create panoramic videos which conventional cameras do not.

Capturing Ambience of Event:
In the party, there are many impressive events occurs but it's impossible to capture all those moments by cameraman. VR videos from 360-degree camera is good storytelling because it can captures all people and details in the party – you can feel like step back in that time by watching with VR headset. It's ideal for wedding ceremony, corporate event, celebration or other party. Don't worry about who're outside the frame anymore.

Pre-Visit Images:
360-degree images affect the viewer experience over the normal. The provider that make pre-visit image well-known is Google Street View – by mounting the camera on vehicles to create 360° images of all areas. Later it was used widely by hotels, attractions, bloggers and even real estate industry because it let their clients see the places like they have visited on their own.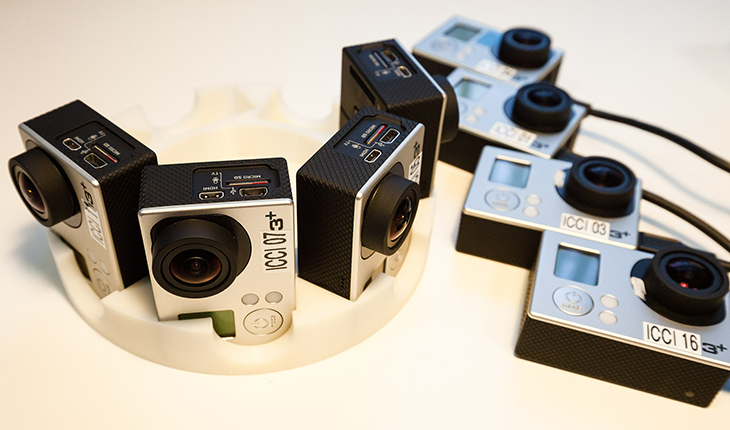 Things to Consider for the Best
Camera Type:
Single-Lens Camera has a lens on top of the body like 360fly 4K. The angle of the lens is more than 180° to capture 360° horizontally. It's simple to shoot and share footage in just a minute because it requires no stitching process. The downside is that it cannot capture 360-degree of vertical field of view – it has blind spot at the bottom of the camera.


Dual-Lens Camera has one lens on front and another on rear like Samsung Gear 360. Each lens has 180° angle to capture 360° horizontally and vertically. In each shot, It will capture 2 photos/videos – front view, rear view – which are not 360-degree footages. It must be combined with stitching software to make it complete 360° footage.


Multiple Cameras are set of cameras attach together on the mount rig or housing in order to capture images in all directions simultaneously. The number of cameras may vary depending on models such as GoPro Omni has 6 cameras and Google Jump has 16 cameras. The more cameras, the higher image resolution which is important for high quality VR video.

Mounting Units - If you want to capture extreme footage like the action camera, you should consider that it has available mounting unit which is compatible with your equipment or not (most are sold separately).

Ruggedness - The main application of 360° cameras is to capture real experience, thus it's likely to be used in conditions that's unsuitable for electronic devices. If you have to capture outdoor activities, you should consider about ruggedness of the camera; waterproof, shockproof, dustproof, freezeproof.


Conclusion
The coming of single- and dual-lens 360° cameras make the cost of creating VR footage is affordable – no need to use lots of cameras with camera rig as before. That make plenty of 360° videos have been created everyday, thus the major social medias have released service like Facebook 360 and Youtube 360° Videos to support them. In addition, the big brands of digital camera like Nikon, Samsung and Ricoh have launched this camera type to the market as well. That shows the 360° camera is a new trend of people who like to shoot and share videos.