Action Camera
The action camera was made for capturing photos and videos while doing activities yourself. It gives you perspectives that are different from regular digital cameras do. Due to small, lightweight, wearable and mountable make it can be attached to helmet, vehicle and sports equipments for taking POV (point-of-view) and objective shot. Action camera is a good gear for those who love extreme sports.


Best Action Camera 2019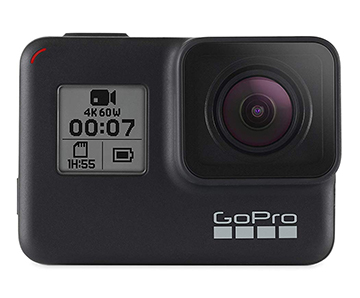 Best Overall:
The GoPro Hero 7 Black is a nice upgrade from previous versions. It's still rugged and already waterproof to 33 feet (no housing need). New interface is user-friendly and easy to navigate. The highlight is HyperSmooth mode that delivers smooth footage like using a gimbal.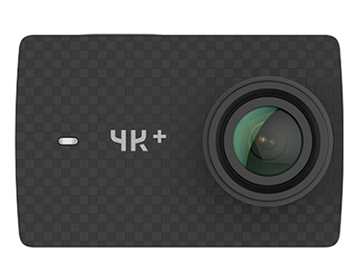 Best Value:
YI 4K+ has great features for the price. It can shoots 4K video at 60fps as high-end models do. Low light shot is good because of adjustable ISO and shutter speed that many action cameras can't do. Voice command is great, especially if your hands are busy or the camera is out of reach.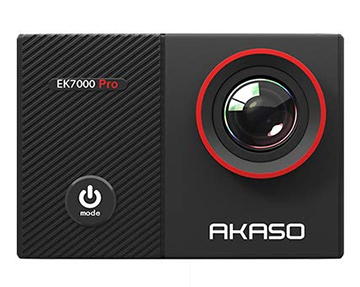 Best Budget:
EK7000 Pro is convenient to use with touch screen menus and wireless remote control—just 2 buttons and can be attached to the wrist. It has adjustable field of view up to 170° and is ready to go with a ton of accessories such as a waterproof case, extra battery, 8 mounts, a bicycle stand etc.
Comparison Reviews

Notable features of GoPro Hero 7 Black and YI 4K+ are many similarities. Both cameras can shoot high resolution video up to 3840x2160 pixels (4K) with frame rate up to 60 fps, and also support voice control and live streaming. In addition, it allow advanced image editing by recording in RAW format.

The Hero 7 Black is a waterproof action camera that makes it unnecessary to use underwater housing. Both YI 4K+ and EK7000 Pro can be used deeper up to 131 feet with underwater housing which is included in the box for EK7000 Pro but have to buy separately for the YI 4K+.

AKASO EK7000 Pro has the highest image sensor resolution of these 3 models. And although it offers 4K video like other 2 models but it has lower frame rate—only 25 fps. It also comes with various mounts for attaching on different surfaces.


Which One?
If you are serious about action photography, GoPro Hero 7 Black can support you. Besides it can shoot high-definition video, its HyperSmooth video stabilization greatly reduces the shake of action shots. That makes Hero 7 Black a top-notch action camera.

If you don't have enough budget for high-end model but still want 4K video camera, YI 4K+ can do that with affordable price. It also has many good features like voice control, live streaming and support USB Type-C.

If you don't want to invest a lot with the camera, AKASO EK7000 Pro is an interesting option. It comes with full features and necessary accessories such as a waterproof case and mounting set. All for under $100 without having to buy additional equipment.


Other Options
GoPro Hero 7 Silver is the middle class of Hero 7 series which price is under $300. It offers waterproof body, voice control, touch screen and GPS like the top model. But just 30fps for 4K video and has no HyperSmooth mode and can't streaming.

DJI Osmo Pocket is a handheld video camera which is equipped with a 3-axis mechanical gimbal. It has compact size and is designed to be easy to hold and operate with one hand. It also has optional accessory mount and quick-release base for mounting on any equipments.

360° Camera has ultra wide field of view that can capture VR video and 360° panoramic photo with a single shot. It gives a different experience, especially when watching via VR headset.


Conclusion
The action camera is a fun camera that can be applied to various applications. Not only favorite sports but it also can be mounted on anything you want such as RC vehicles like drone to take bird's-eye view footage, dog harness to get dog's-eye view footage or see where they go each day.

The high-end models can take high-resolution videos up to 4K which is equivalent to professional video camera. That make action camera is still being used for filming TV shows to capture the view that common camera can not shoot.